Guess what? I have exciting news! I joined the latest social media network: MeWe. The app just announced its launch on March 9 of this year, and it is already making a big impact. I honestly did not see myself joining another social media site anytime soon. I already manage a lot of social media sites between my blog and internship; I have so much going on, I don't even have personal social media accounts anymore!
When I heard about MeWe, however, I knew I wanted to join, and I had two very good reasons. The first was that MeWe has multiple features that combine the functions of other social media sites, which makes it convenient. All of your favorite sharing tools are in one place. Some of my favorites are:
The first thing that I did after joining MeWe was create a group for you guys. The Ali in Bloom public group is just another way to stay up to date on new content. I will be posting about my latest blog posts, new Youtube videos, pictures that didn't make it onto the blog, and behind-the-scenes fun! Even better, the group has its own personal chat room, so if you want to connect more personally with me or ask any questions that you might have about posts, a topic I've covered, my blog or life in general, you can connect with me quickly and easily there in the group chat- or private chat! A lot of you reach out on Facebook and Instagram, and I try to respond to each and every one of you. Having all of this communication streamlined into one app makes it way easier and faster for me to get back to all of you though. Connecting with readers is one of my favorite things about blogging, and I only hope that joining MeWe means I can hear from even more of you!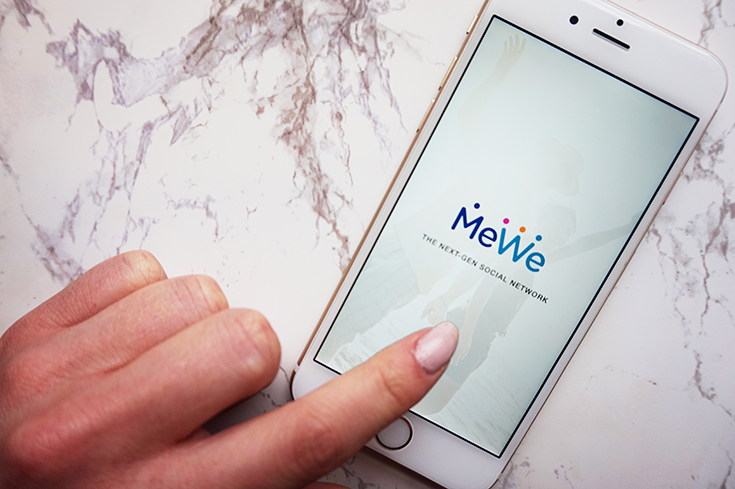 The second and honestly the biggest reason that I wanted to join MeWe was because it offers me something that no other social media can: privacy. You might think that sounds silly. I do post a lot about my life on the internet, so you might be thinking privacy isn't my biggest concern, but I'm actually very particular about how much I do and do not share on my blog and social media channels. I like the option of being able to share what I want, and I don't like the idea of anyone storing or owning my personal data. The goal is to share my life with you- not random third parties.
MeWe is the only social media network that has a Privacy Bill of Rights for its members. Can you believe that? I honestly had no idea that other social networks were so open and free with collecting and giving away our information, but I'm glad that I know now. Knowing that I have privacy and safety on MeWe means that I'll be using MeWe as a way to share inside sneak peaks into my life! This doesn't mean that I'm going to stop using other social media sites- not at all. This just means that I get to share more and be more comfortable sharing more with you all on MeWe!
Wondering why other social media networks are so unsafe? I'm no expert- even after hours of research, but some other bloggers who joined MeWe are spilling the beans. Here are other great blog posts to read on the privacy issues with other social networking sites:
The Really Bad News About Facebook (and What to do About it)
Why You Should Kick Facebook to the Curb (and Where You Should Go Instead)
Will you join MeWe and be a part of the Next-Gen Social Network? How do you feel about the lack of privacy on other social media networks? I want to know! Let me know in the comment section below.